, 2017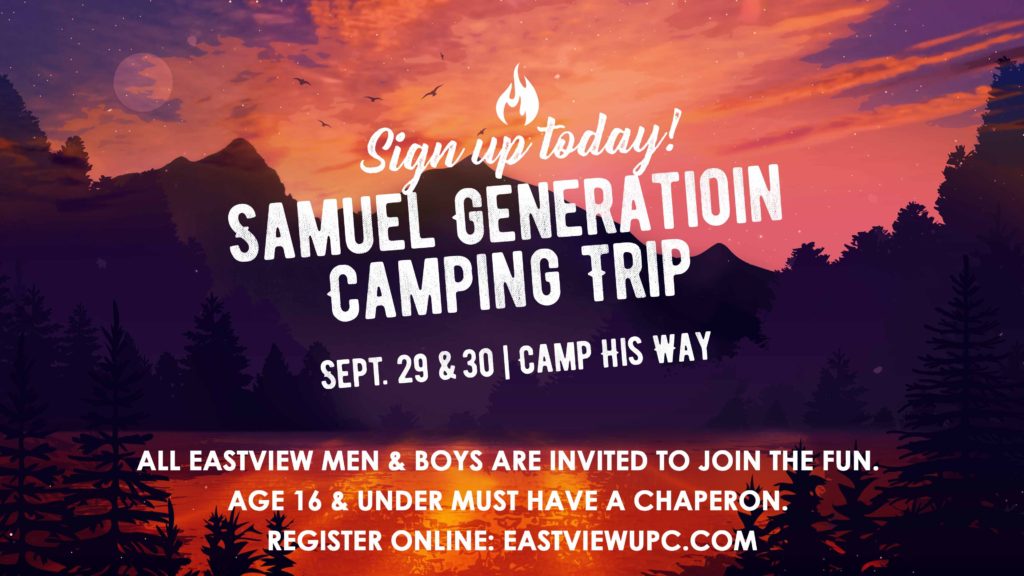 Under 16 must be paired with chaperone.
Date: September 29 & 30, 2017
>>>Registration Closed!<<<
Eastview UPC is proud to partner with
Dustin Ellermann (Winner of Top Shot Season 3)
and
to provide a safe, fun, and Spirit-filled weekend for Samuel Generation.
More Details and Helpful Information
listed below the videos!
2015 Highlight Video
2014 Highlight Video
2013 Highlight Video
Details & Helpful Information
Registration:
All registration is available online with the link provided above. You cannot register your entire group at one time. Each family must submit registration together in order to meet Camp His Way policies. All comers are $45 and shooting passes are $5. All meals, snacks and lodging are included in registration fee.
Food:
All meals and snacks are provided. Personal snacks are not needed because our food is the best around. No food of any kind is allowed in dorms.
Dress Code:
Dress is very casual but all guests must dress in keeping with modesty and Christian ideals. T-shirts, jeans or wind pants and tennis shoes are recommended. Closed shoes are required at all times.
No shorts. No open shoes such crocs, flip-flops or sandals.
Items to bring:
Bedding for twin size bunk & a pillow
Toiletries (soap, shampoo, deodorant, toothpaste & toothbrush, comb or brush)
Towels & washcloths
Laundry bag for wet or damp clothes
Several changes of clothes & closed or full shoes (No shorts, No open shoes)
Jacket – if cool weather
Optional items: Flashlight, umbrella or rain gear, ear protection, eye protection
Camp His Way Restrictions:
No knives, firearms, archery equipment, paintball guns or equipment. All marksmanship gear will be provided.
Alcoholic beverages, tobacco in any form, narcotics or illegal drugs of any kind are not permitted on the Campgrounds.
Over-the-counter and prescription drugs in their original container are permitted but must be kept out of reach of children. Medication for campers may be given to camp nurse with dispensing instructions.
Because of the health and fire hazard, smoking is NOT permitted on camp property.
All profanity, immoral conduct of any nature, and immodest dress are forbidden at Camp His Way.
No Pranks of any sort.
Pets are not allowed to visit. We have plenty available.
First Aid:
First aid and emergency care will be available.
Phones & Internet:
Landline phones are only available for emergency use. It is a business and we ask that calls be limited. We have slow, rural, password protected Wi-Fi available to share only with group leaders.
Directions to Camp His Way:
From Jasper take Highway 63 west toward Zavalla approx. 25 miles.
From Lufkin take Highway 69 south, turn left on Highway 63 toward Jasper – 5 miles.
From Beaumont take Highway 69 north, turn right on Highway 63 toward Jasper – 5 miles.
1. Turn on FM 2743 (Concord Baptist Church & Cemetery)
2. Stay on FM 2743 for about 4 miles
3. Turn left on FM 3373 (sign-Black Forest Community)
4. Go 1½ Miles
5. At "Y" stay to the right, follow curve for 0.3 miles
6. Turn left – McGilberry Road (Angelina Road 334) go ½ mile
7. Camp on left – wooden fence – Camp His Way Sign
For your GPS: Latitude N 31 09′ 17″; Longitude W 94 15′ 49″
Contact us: info@samuelgeneration.com
____________________________