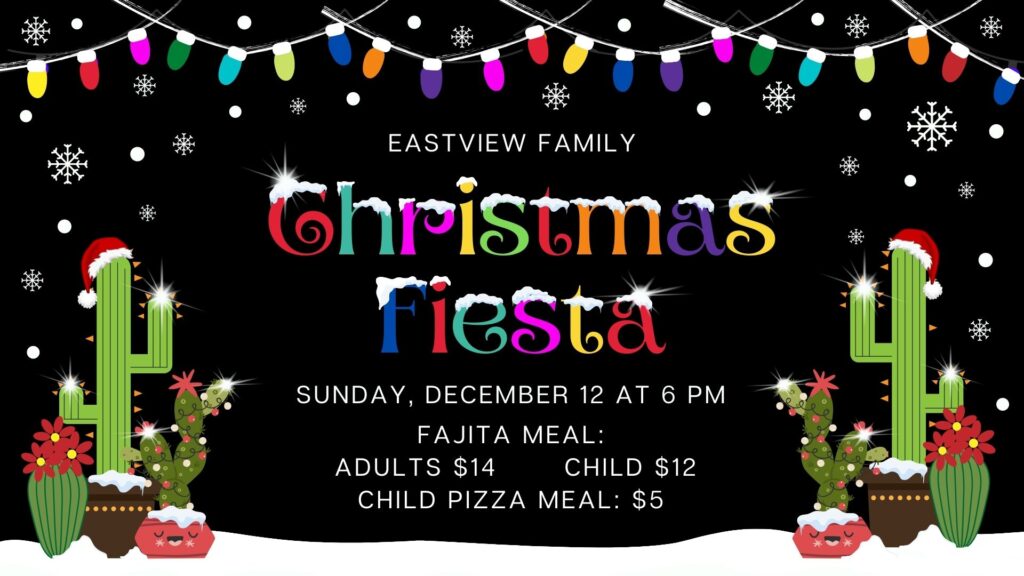 Christmas Fiesta 2021
Sunday, December 12 at 6 PM
Eastview Family Life Center
This event is our annual church-wide "Christmas Banquet."
This year's theme is "Christmas Fiesta," and we are looking forward to a great night of fun and fellowship.
Caterer: Daryl Crider
Christmas Fiesta Menu:
2 Chicken Fajita Tacos on flour tortillas with Charro Beans, Mexican Rice, Guacamole, Salsa, Pico, Cheese, Sour Cream, Corn Tortilla Chips, Drink, & Dessert.
Meal Cost:
Adult Fajita Plate: $14
Child Fajita Plate: $12 (Age 0-12 only)
Child Pizza Meal $5 (Age 0-12 only)
Entertainment: Texas Bible College
Coordinator:

Sis. Veronica Bullard
Register & Pay online in Church Center or in person in the foyer with the attendants.