TEXT to GIVE
Simply text the number above the amount you want to give & to which fund you want to send it.
Example: 50 General
You will receive a confirmation text following your transaction.
Fund Options: Tithing, General, Liberal, E3D, Building, Children, Youth, Ladies, Men, Girls, Samuel, Missions, Singles, Vanguard, Parking, Quizzing, Christmas, NAYC, Mother
Text to Give Command Words
Text any of the following command words to 936-236-6116.
GIVE – Make a donation.
EDIT – Make changes to your giving account including card or bank information.
KEYWORD – See a list of active fund options.
REFUND – Refund your last gift.
First time to TEXT to GIVE:
There is a one time set-up process. You will not have to go through this process each time you give.
Step 1.
Simply text the amount you want to give &
which fund you want to send it to. (Example: 5, Building Fund)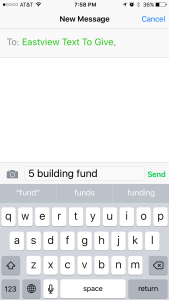 Step 2.
You will receive a response with a link where you can set up your personal profile and credit card information.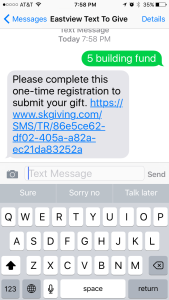 Step 3.
Click or Open the link and enter your personal information on the page provided. Then p
ress GIVE.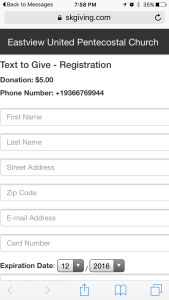 Step 4.
You should see a screen that says Eastview Text To Give was successful.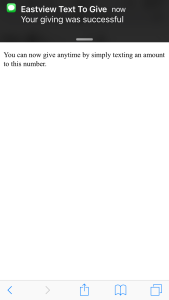 Step 5.
You should receive a text that says "Your giving was successful."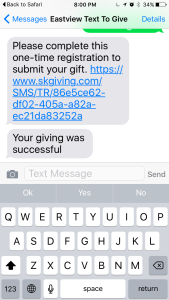 You're Done!