Mystery Island VBS
July 11-15 | 6-9 PM | Ages 4-11
This year's theme is Mystery Island! At Mystery Island, your kids will be transported to a beautiful paradise, where they will track down the truth about the one and only God. They'll discover amazing things about God—his attributes—as they look to the only source of truth, God's Word.
Attention Parents:
Monday – Thursday will be packed with activities for your kiddos to enjoy. On Friday Night we do things a little differntly.
Moms, Dads, and family are invited to stay for an evening full of food, fun & games for the whole family as we wrap up an incredible week of VBS at Mystery Island.
Registration for VBS is free.
VBS T-shirts can be added to your registration for $12 each.
The deadline to order VBS t-shirts is June 23.
Eastview famiy, please complete the Volunteer Survey Form by June 1st to let us know where you would like to serve during VBS.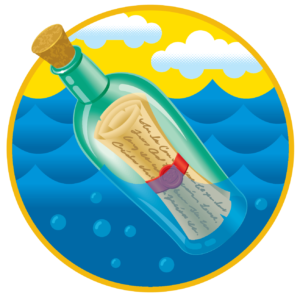 More about Mystery Island VBS!
JOIN THE FUN IN THE SUN WITH THIS UNIQUE VACATION BIBLE SCHOOL PROGRAM.
Is there just one God? . . . Who is God? . . . What is God like? . . . Does God love me? . . . Can I know God?
Our kids grapple with questions like these every day. At Mystery Island, we'll uncover the truth about our Creator God! There's a sea of confusion about who God is and what he's like, so we'll track down the one true God and learn how amazing he is through the pages of Scripture.
Mystery Island VBS is packed with teaching that connects the Bible to the real world and gives kids a better understanding of our awe-inspiring Creator and the salvation he offers through Jesus Christ.
Each day, kids will learn more about one of God's amazing attributes (great, almighty, ruler, Emmanuel, trustworthy) and how that applies to their lives.
Grab your sunscreen and get ready for a taste of paradise as you track down the one true God at Mystery Island!
FROM THE MINUTE YOUR ISLANDERS ARRIVE AT MYSTERY ISLAND, THEY'LL FIND CLUES READY TO UNCOVER!
The day begins at the Islander Assembly, a supercharged opening complete with entertaining welcomes, rockin' songs, a mission moment, and prayer. Then we're off to four fun rotation sites: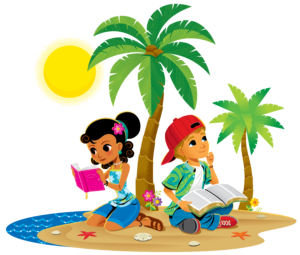 LIGHTHOUSE LESSONS
During the teaching time, islanders will track down truths about the one true God and discover he's a priceless treasure.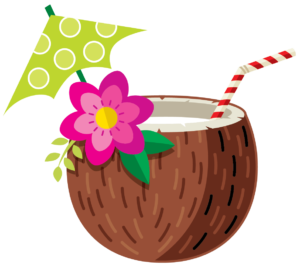 TROPICAL TREATS
The snack spot! Islanders will enjoy island eatables at this yummy spot.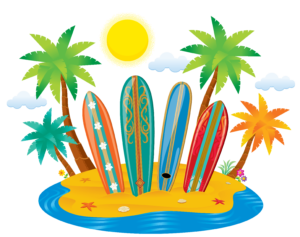 RIDE THE TIDE GAMES
The recreation location! At this spot, islanders attempt fun surf and sand challenges!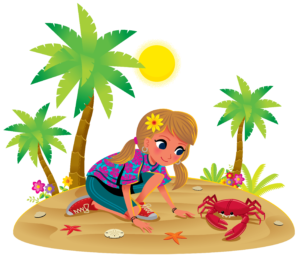 DEEP SEA SCIENCE AND CRAFTS
Electrifying science experiments to explore, creative crafts to invent, high-energy songs to sing, fun memory verse games to play.
After finishing the day's rotations, everyone heads back to the Islander Assembly for the closing that includes more singing, a Creature Feature, contest results, and the hugely anticipated daily drama.