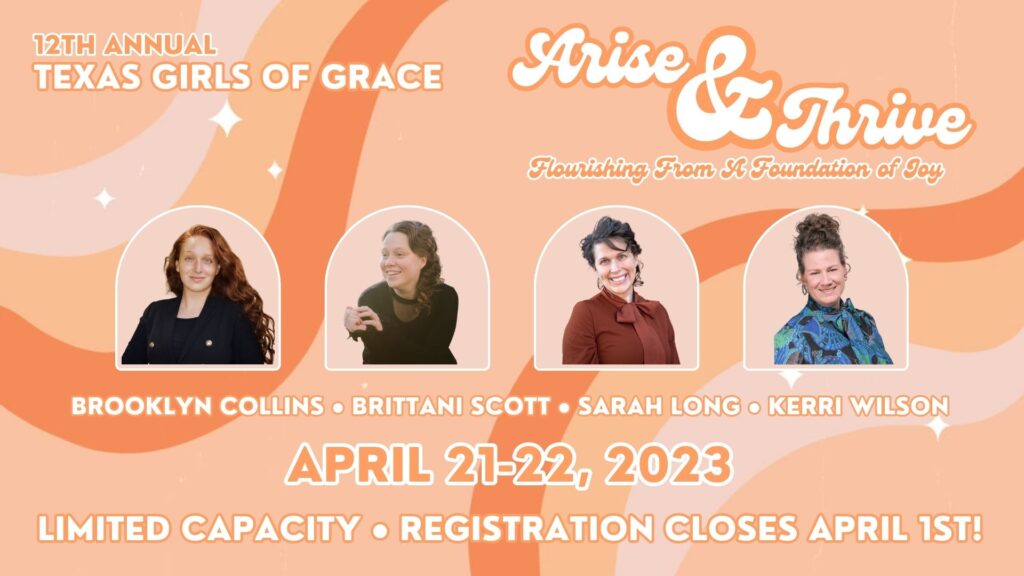 12th Annual Texas Girls of Grace
April 21-22, 2023
We hope you make plans to join us for the 12th Annual Texas Girls of Grace on April 21 & 22, 2023, hosted by Eastview UPC.
This conference is for girls & ladies ages 10+. God is raising up a generation of Apostolic young ladies to walk boldly with JOY. It's our intent to help girls FLOURISH in their walk with Him and THRIVE in ministry!
Friday & Saturday – Brooklyn Collins

Worship Leader & Saturday Split Sessions – Brittani Scott

Saturday Morning – Sarah Long

Saturday (Guiding Girls in Grace Session) – Kerri Wilson
Early Registration opens on February 17 and closes March 31.
Girls – $35 per girl ages 10-19, T-shirt included
Ladies – $15 per adult ages 20+, T-shirt not included
Additional t-shirts can be purchased during registration for $15/ea.
Late Registration opens April 1 and closes when capacitay is reached.
Late Registration:
Full Weekend – $25 per girl (ages 10-19)
One Day Only – $15 per girl (ages 10-19)
Full Weekend or One Day – $15 per adult (ages 20+)
Please note: Late Registration does not include a t-shirt. T-shirts can be purchased at the conference for $15/ea.
NOTE: There is LIMITED capacity & registration is on a first-come-first-serve basis. As soon as we reach max capacity, registration will close. We suggest getting tickets as early as possible. Girls ages 9 (turning 10 in 2023) may attend with a chaperone present at all times. There must be at least 1 registered chaperone for every 5 girls registered.
For other FAQs, please see below or email us at txgirlsofgrace@gmail.com.
Follow us on social media

@txgirlsofgrace

and tag us

#txgog

!
FAQs
Frequently Asked Questions
What are the ages of TxGOG?
The conference is designed for girls & ladies ages 10+, and we now offer a Saturday Session called "Guiding Girls in Grace" for ages 20+. This new session is for chaperones, moms, female leaders, and youth workers. Girls ages 9 (turning 10 in 2023) may attend with a chaperone present at all times. Moms and other ladies from your church are welcome to attend, but they must register.
What is included with registration?
Early Registration:
Girls registration (ages 10-19) Includes: admission to all services & activities, a TxGOG T-shirt, crafts, and food on Friday night plus lunch on Saturday.
Chaperone registration (ages 20+) includes: admission to all services & activitites, food on Friday night plus lunch on Saturday. T-shirts are not included for Chaperones, but may be added to Early Registration for $15 each.
T-shirts are not included with late registration. A limited quantity of T-shirts will be available for purchase at the event.
What do I wear?
We've all been there, sister. Dressing for conferences can be such a struggle, so we are here to help.
Friday night service is dressy. We suggest bringing a change of comfy/casual clothes for the After Party. There will be food served and crafts that usually involve paint/fabric markers so we suggest wearing clothes that if something were to get on it, it wouldn't break your heart to have a stain.
Saturday is business casual dress. Most girls wear the TxGOG conference t-shirt that is included with registration.
Helpful Tips
At all services on Friday and Saturday, there will be activities that encourage movement, such as worship, action songs, games, etc. We suggest wearing something that is modest and that you are comfortable doing movement in while still looking cute, of course!
We like to dress up our TxGOG t-shirts by layering a button-down shirt underneath, wearing a flowy or patterned skirt, or going casual with a denim jacket. Don't be afraid to show us your style!
TxGOG T-shirts
2023 TXGOG T-shirt reveal coming soon!! Follow us @txgirlsofgrace.
TXGOG t-shrits are always a big hit! We strive to make super cute shirts each year that feature our annual theme. We encourage everyone to wear their shirts on Saturday.
TXGOG T-shirts ordered at registration are available for pick-up on Friday night at the After Party. A small quantity of shirts are available for purchase at the event. Shirts must be purchased with registration or at the event. We do not sell and ship t-shirts.
I have a child. Can I bring them?
At this time, we highly encourage you to make arrangements for childcare. At Eastview, we love children, but this conference is geared for young ladies ages 10+. Nursing children under 12 months are allowed to attend with their registered mother and do not need to be registered. We ask moms to please be mindful and courteous to the other attendees if you are bringing a nursing child.
Male Attendance Policy
This is a girls-only conference. No Boys Allowed.* No males are permitted to register or attend and will be asked to leave.
*Note: Eastview Pastors (David Hunt and Justin Bullard) and our Safety Team will be on campus during the conference. These are the only males permitted on campus during this event. They will be wearing apparel to indicate that they are permitted to be on campus.
I can't attend in person, can I watch online?
Yes! Subscribe to our YouTube channel: Eastview United Pentecostal Church to access all of the TxGOG services. You can watch live and after the event.
When is the next year's conference?
Be sure to follow us on Instagram and Facebook to stay up-to-date with all announcements concerning future events. Follow us @txgirlsofgrace.
Hotel Information:
Crown Colony Inn & Suites (Best Western) – Located Behind McDonald's
Address: 3211 S 1st St., Lufkin, TX 75901
La Quinta Inn – Beside Casa' Ole
Address: 2119 S 1st St., Lufkin, TX 75901
Quality Inn & Suites – Across from Campgrounds
Address: 4306 S 1st St., Lufkin, TX 75901
Comfort Suites – Across from Campgrounds
Address: 4402 S. First St., Lufkin, TX 75901
Hampton Inn – Across from Campgrounds
Address: 4400 S 1st St., Lufkin, TX 75901
Holiday Inn Express – Across from Campgrounds
Address: 4404 S 1st St., Lufkin, TX 75901
Courtyard by Marriott – In front of Wal-Mart
Address: 2130 S 1st St, Lufkin, TX 75901
Address: 2409 North Timberland Drive, Building A,Lufkin, TX, 75904